4 Famous Collectors and Authors Who Still Use Typewriters
Posted by Jonathon Gregull on Jan 31st 2022
There was a time when typewriters were commonplace in the workplace and at home. If you're someone like me who grew up only using computers, it can be hard to imagine a world without them. With the entrance of these much faster machines came a significant drop-off in typewriter sales and users.
While typewriters may have fallen into a niche industry, it hasn't for everyone. As a matter of fact, there's been a resurgence in recent years, not only with normal customers but with celebrities as well.
Here are 4 of the most famous typewriter enthusiasts today that are still using a typewriter.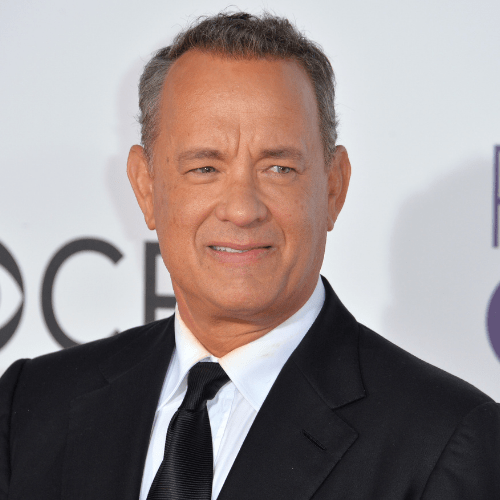 Tom Hanks
The most famous typewriter advocate today, Tom Hanks is an avid collector and may be a large reason for its growing popularity in recent years.
He's appeared in the documentary California Typewriter and in numerous interviews professing his love for the hobby, including a video from Vanity Fair where he shows how to change a ribbon on a manual typewriter.
In a 2019 interview with the New York Times, Hanks was given his first typewriter from a friend (who told Hanks it was a hunk of junk) when he was 19 years old. When he went to get it serviced, the repairman sold him a much better Hermes 2000.
He explained his love for typewriters by calling them "brilliant combinations of art and engineering. But art, engineering, and purpose. Every machine is as individual as a set of fingerprints. So, every time you type something on a typewriter, it is a one-of-a-kind work of art."
He even created his own app called Hanx Writer where you can type and send messages rendered in a typewriter font.
Over the years, Hanks has been slowly giving away his extensive typewriter collection, now owning less than 120 typewriters with plans on reducing his collection down to one – a Olivetti Lettera 22. Still, he occasionally makes the news when he visits local typewriter shops around the country – learning more about typewriters, buying antiques for his collection, and listening to each shops interesting stories.
He even visited our store in Georgia a few years ago - click here to read more about it!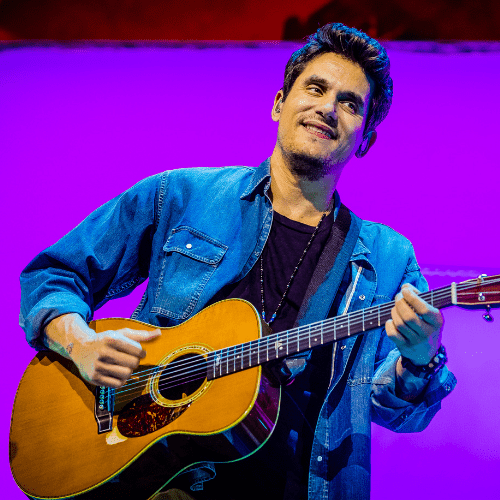 John Mayer
American singer/songwriter and 7-time Grammy award winner John Mayer was not always a typewriter user. Known for being an early adopter to the latest technology, Meyer would often special guest star at several Apple conferences alongside Steve Jobs, helping him introduce their latest software, devices, and products.
It wasn't until Meyer visited the Rock and Roll Hall of Fame that he realized how little to none of his music was physically written down. Soon after, he bought a typewriter online – a Brother GX6750 – using it to inspire creativity for his newest album.
In the documentary California Typewriter, John Meyer talks about his newfound love for typewriters:
"I instantly started to really come alive on it," he said in the documentary. "You're sort of at a safe distance where you can express yourself openly without having to edit yourself at the same time."
In 2018, Meyer posted a PO box address on his Instagram account, encouraging his fans to find a typewriter and send him a properly formatted letter, promising to reply to as many as he could. He wrote, "2018: a return to naturalism. Let's correspond. Real paper. Real ink. Real names."
Cormac McCarthy
Pulitzer-prizewinner Cormac McCarthy has an unparalleled longevity that few writers have seen. Ever since he bought a light blue Olivetti Lettera 32 at a Tennessee pawnshop for $50 in 1963, he hadn't used any other machine since.
"It has never been serviced or cleaned other than blowing out the dust with a service station hose," said the writer in an interview with the Guardian. The nearly 50 years of typewriting encompassed ten novels including the Pulitzer prize winning The Road and No Country for Old Men, which was adapted into a movie directed by the Coen Brothers. He also used his Olivetti for two plays, five screenplays, two short stories, and all drafts and correspondence he ever typed.
He estimated that this would put this at about 5 million words over a period of 50 years.
In 2009, McCarthy sold his typewriter at a charity auction for $254,500. That doesn't mean McCarthy has sworn off typewriters. After the sale, a friend promptly bought him the exact same model for $20, even less than the initial price he paid some 50 years ago.
Danielle Steel
While Cormac McCarthy's typewriter use is impressive, it pales in comparison to one of the most profitable writers of all time. With over 800 million copies sold, Danielle Steel has been churning out novels for decades, making her the bestselling author alive, and the fourth-bestselling fiction author of all time.
Known for her romance novels, Steel has written all 190 of her books on a 1946 Olympia typewriter that she nicknamed Ollie.
In an interview with Harvard Business Review, Steel explains more why she insists on using a typewriter:
"I'm just very low-tech. I do everything wrong on a computer; I get it all jammed up. The keys are too close together: They don't clomp, clomp, clomp when I'm writing, and it's so easy to hit the wrong button and erase something. It would give me heart failure."
Steel found her German-made typewriter in a junk shop at the beginning of her career, only paying $20 for it at the time. Since then, she's known to be a workhouse in the industry, typically working 20 hours per day on multiple books at once.
She currently types out seven books per year for her publisher, and has no plans on changing any time soon.
---
There you have it! Four of the most famous typewriter users and collectors of today. Hopefully this list inspires you to consider taking a break from the screens and unwinding your thoughts with the help of the clickety-click of yester-year.
Are you in need of a typewriter but aren't sure where to start? We can help you with that!
At Typewriters.com, we offer a great variety of typewriter products and supplies for you to check out. From hundred-year-old antiques, to newer word processing models, to supplies for any typewriter you choose, make us your one-stop-shop for all things typewriters.