Typewriters, More Than Just a Hobby for Tom Hanks
Posted by Julie Greenbaum on Jul 17, 2019
Many of you know Tom Hanks as an Academy Award-winning actor, director and producer. But did you know that Hanks has been a passionate typewriter collector since the 1970s?
In fact, in the film California Typewriter that was released in 2017, Hanks said he probably has about 250 plus typewriters in his collection and "that 90% of them are in perfect working order."
So, what is it about the typewriter that Hanks loves?
"What thrills me about typewriters, is that they are meant to do one thing and one thing only and with the tiniest amount of effort, maintenance, it will last a thousand years," he explained in an interview during the London Literature Festival with Gabby Wood, literary director of the Booker Prize Foundation and writer for the Telegraph. Here is the interview in its entirety featured on YouTube published by Penguin Books UK.
So where did his passion begin?
How a Conversation in a Cleveland Shop Sparked a Life-time Passion
Hanks was given his first typewriter from a friend who had decided to part ways with it to buy a new Olivetti electronic typewriter. When the time came to get it serviced in 1978, Hanks took it to a business machine store in Cleveland, only to be told by the proprietor that it was not worth fixing.
"He explained to me that I was in possession of a toy. It was a thing that looked like a typewriter but it was made of plastic. It was a hunk of junk. It was badly designed, poorly manufactured. And then he showed me a wall of his portable typewriters and I ended up walking out of his store with a Hermes 2000 which he sold me for $45," Hanks told WBEZ in an interview.
That conversation sparked an understanding of the art of communicating with a typewriter — and a deep appreciation. "That guy altered my concept of the place a typewriter can hold in your life," Hanks stated in an interview with NPR.
In his book of short stories titled: "Uncommon Type," Hanks captured that same conversation in the story "These Are The Meditations Of My Heart," where one of his characters takes her typewriter to a repair shop to be serviced. While the typewriters mentioned in the book are not the main theme of the 17 short stories, they provide a supporting role.
In an interview with Lee Cowan on CBS Sunday Morning, Hanks said that he added the typewriters into each piece on purpose: "It helped me formulate each story," he explained in the interview, adding that each typewriter has a personality.
So, What Does Hanks Look for in a Typewriter?
For Hanks, it's not just one thing that he looks for when buying a typewriter. It's the thrill of the hunt, the mechanics, the tactile experience, the permanence of type on paper, the unique sounds — the shook and the click-clack-ding — that only a typewriter can give.
"If the drums are the backbone of any rock-and-roll band. The sound of a typewriter is the sound of productivity," he explained to Cowan.
While Hanks doesn't have "one" favorite typewriter, he did reveal a few of his favorites in an interview with Tribune-Review News Service Writer Nicole Brodeur. "Any Smith-Corona Sterling or Silent is a gem. Any Hermes, either the green or tan, all work like lightning. I have a thing for my Olivetti Lettera 22's, as they are masterpieces of design, the action is crazy fast and light, and the typewriter is in the Museum of Modern Art."
Hanks uses his typewriters to create memos, shopping lists and reminders but admits to using a computer for writing longer works like his book "Uncommon Type."
Was That Tom Hanks That Just Walked In?
When looking for a typewriter, it's not uncommon to see Hanks at a swap meet or perusing a typewriter shop. In fact, four years ago, Hanks stopped by our Typewriters.com facility in Tucker, Ga., to check out our extensive inventory of typewriters.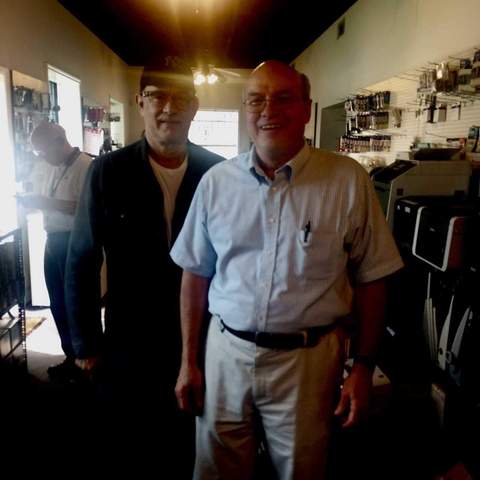 Tom Hanks stands with Typewriters.com founder Jim Riegert.
"Tom Hanks came into my store and said that he liked collecting typewriters and just wanted to look around. He thought I had a lot of interesting things and ended up picking out a 1970s Smith Corona typewriter that I fixed up and sold to him," recalls Jim. "I didn't realize how passionate he was about typewriters to have the HanxWriter website. But he was just a nice, down-to-earth guy, and talked to everybody here, and walked in the back with the staff to check out the stock. It was an interesting experience."
Hanks has also stopped in typewriter shops across the country like California Typewriter Company (the shop featured in the film "California Typewriter"), as well as other shops in New York City and Philadelphia.
But, there are also other ways that Hanks acquires his typewriters … sometimes he has people give them to him. Such was the case with "Talking Dead" host and Nerdist founder Chris Hardwick, who learned that the perfect way to get Tom Hanks to appear as a guest on his podcast was to send him a 1934 Corona Silent typewriter. And guess what, it worked! Tom Hanks response was, well, great. You can read the letter to Hardwick and his staff here.
Tom Hanks Inspires Others to Use Typewriters
The film "California Typewriters," and the book "Uncommon Type" have been popular not just among typewriter collectors and others who like a good story, but also among the younger generation.
After seeing the film and reading Hanks' collection of stories, one Sugar Land, Texas, student's teacher gave her a great idea: to write Tom Hanks. To her surprise, as well as her teachers and classmates, Tom Hanks actually sent her a Royal Typewriter, along with a hand-typed letter with words of encouragement, in a video displayed in the Houston Chronicle. You can read the article and watch the video here.
Another recipient of a typewriter from Tom Hanks was Nick de Peyster, his wife Julie de Peyster and their two sons from Wellesley, Massachusetts., who decided to start a project of writing thank you notes. After they too saw the film "California Typewriter," the de Peyster family thought it would be a great idea to write the letters on one of Hanks' typewriters. In an interview with The Boston Globe, Nick de Peyster said that in the letter he wrote to Tom Hanks, he and his family would pledge to:
Maintain the Typewriter he would send us
Write at least once a week and that it would go out
Buy a typewriter for another family for them to do it also
So, what happened next? Tom Hanks sent them a typewriter, an Olympia De Luxe from the late 1960s, along with a typed letter to the de Peyster's son Rowan, encouraging him to learn how to use it.
If you need a bit more convincing to give a typewriter a try, Hanks breaks it down into 11 convincing and comical reasons why you should use a typewriter, which he wrote in the forward of the book "Typewriters." Visit the Chronicle Books Blog to find out what those 11 reasons are.
Taking a Love for Type into the Digital World
As a typewriter aficionado, Hanks decided to take his passion to the next level — and created an App exclusively for Apple. Turning an iPad or iPhone into a typewriter, the HanxWriter App mimics the sound and feel of using an old-fashioned typewriter, providing the most authentic experience that is possible with a digital device.
The unique sounds of each typewriter, along with an animated carriage return, type hammers and key press, make the Hanx Writer App worth checking out. Users of the App can also turn off the Delete Key feature, can try out some of Hanks' custom fonts, and even change typewriters. The App also gives users the ability to print and share their creation, as well as manage multiple documents. What's even more cool about downloading the App is that you get a hand-typed letter from Tom Hanks! What's not to love about that?
Are You Using a Typewriter or Has This Article Inspired You to Use a Typewriter?
If so, we would love to assist you in answering any questions or selecting a typewriter. At Typewriters.com, we have a wide variety or typewriters and supplies. Our extensive product selection includes: IBM, Nakajima and Brother typewriters, along with the full-line of General Ribbon Company (GRC) typewriter supplies that includes nylon ribbons, correctable ribbons and lift-off tapes, as well as printwheels for major brands like IBM, Nakajima and Brother.

Just give us a call at (404) 377-1884 or email at info@typewriters.com so that we can discuss your specific needs.